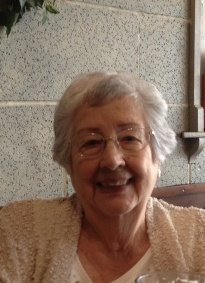 Obituary of Arlene L Szaro
Arlene Liebler Szaro, 94, of Sun City Center, FL, died July 14, 2020, of natural causes in her home at Aston Gardens, Sun City Center.
She was a long time resident of Roselle, NJ (1926-49), Redington Beach, FL (1956-1990), and Sun City Center, FL (1990-2020). She was born in Roselle, NJ on June 18, 1926 to Adam and Marie Liebler, and was the younger sister of Arthur Liebler. She grew up in New Jersey, where she graduated from Abraham Clark High School in 1944 and attended Seton Hall University. Upon graduating from high school, she worked first as a fashion runway model in New York City and then as a legal aid in the patent office of Standard Oil of New Jersey. On May 14, 1949, she married Sgt. Benjamin Szaro of Wauchula, FL and moved with him in 1950 to Florida, where they raised their 4 children. In 1956, she and her husband built one of the first homes in Redington Beach, where they lived for the next 34 years. While living there, she was active in civic organizations, serving terms as president of the Twins Mothers Club of St. Petersburg and the Redington Beach Mothers Club. Her signature achievement as president of the Redington Beach Mothers Club was organizing sponsors for the Redington Beach Town Park to provide a safe playground for the town's children. While living in Redington Beach, she and her husband were long time members of the Church by the Sea of Madeira Beach. She also sold Real Estate and worked with her husband, who taught math at Madeira Beach Junior High School, to bring boys and girls from the Tampa Bay area to summer camps to work in the tobacco fields of Connecticut. After retirement, she and her husband moved to Sun City Center, FL in 1990, where she spent the next 30 years, and was a member of St. Andrew Presbyterian Church. Trained in her youth as a classical pianist, Arlene loved music and the theater, and passed this love on to her children. She was also an avid traveler. She and her husband traveled across the country in their RV, touring the East Coast from Florida to Maine, the American West, and Alaska. She also accompanied her family on cruises to the Panama Canal, Alaska, Scandinavia, and Russia, and trips to Hawaii and Europe, including England, France, Italy, and Germany.
She is survived by her children [Ben Szaro of Albany NY, Patricia Sons (William) of Land O'Lakes, FL, Paul Szaro of Tucson, AZ, and daughter-in-law Jo Ann Szaro of Miami, FL], 8 grandchildren [Shelly Kossoff (Jay) of Orlando, FL, D Adam Szaro (Jennifer) of Oviedo, FL, Rebecca Sweet (Michael) of Davie, FL, Melissa Szaro of Portland OR, Andrew and Jessica Szaro of Tucson, AZ, Neil Sons (Shana) of Roswell, GA, and Gregory Sons of Port Richey, FL], 9 great grandchildren [Sari Kossoff, Bailey Kossoff, Brady Kossoff, Kaleb Szaro, Jonah Szaro, Wyatt Szaro, Samantha Sweet, Penelope Sweet, and Nicholas Sons], 6 nieces [Linda Sexton, Laurie Ross, Ann Muldowney, Barbara Mandrich, Paula Hernandez, Kitty Szaro] and 4 nephews [Arthur Liebler, Arthur Hansen, Charles Murphy, Robert Murphy]. She is predeceased by her parents Adam (1956) and Marie Liebler (1983), her husband of 54 years, Benjamin Szaro (2003), her son Donn Adam Szaro (2012), her daughter-in-law Margaret Szaro (2019), her grandson T Alexander Szaro (2015), and her brother Arthur Liebler (2018).
Throughout her long and full life, she made an impact on all who knew her, and she will be remembered and missed by many. Memorial Services are postponed to a later date due to the pandemic. Her burial is being handled by Sun City Center Funeral Home. She will be laid to rest at the Royal Palm North Cemetery in St. Petersburg, FL on July 22, 2020, during a private ceremony.
In lieu of flowers, donations may be made to The Men's Club in Sun City Center, FL.
To send flowers to the family or plant a tree in memory of Arlene Szaro, please visit Tribute Store


Share Your Memory of
Arlene